There is a known bug with Android 10 that keeps it from playing MP3 ringtones when the phone rings. It will only beep or set to the default ringtone. The problem is mostly with Samsung and Pixel devices. It has nothing to do with the app or ringtones. Many users are complaining about this not knowing its an issue within Android 10.
Recently some users are complaining about ringtones not staying on the device which is a storage problem with the device. Our apps only provide the users with mp3 music file. The device is responsible for playing the mp3 file and storing it on the device. Our apps don't have a player and don't have storage within.
Android 10 should be compatible to play MP3 media. Here is the developer docs saying it. Android 10 Media codecs.
Android 10 devices has its own file base system for storage. Android 10 Data and file storage overview
There are additional problems with Android 10 regarding sound and other issues. Here is article detailing issues with android 10 on pixels.
This is tread from Note 10 users on Storage issues and fixes.
Google searches from complaining Android 10 users.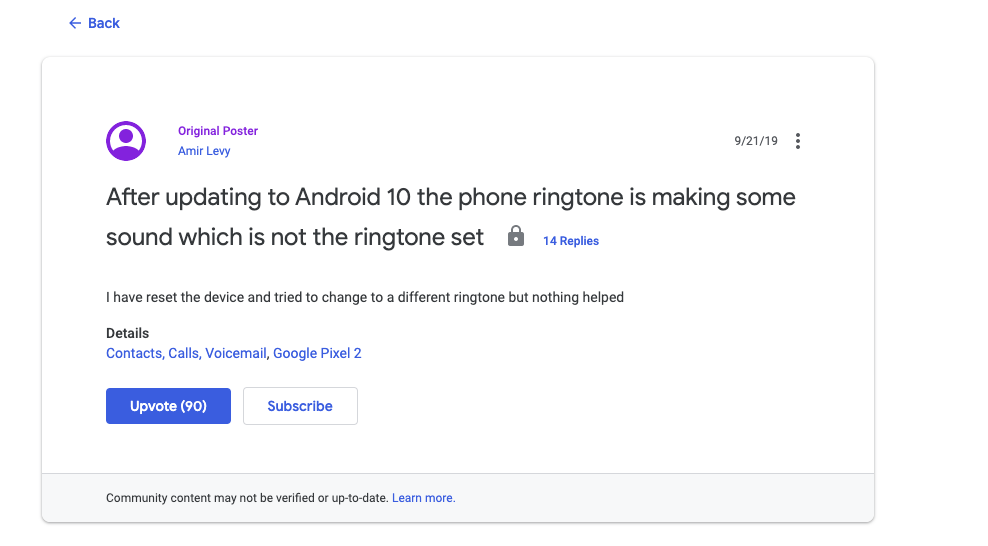 How to fix the problem?
The user should contact the devices manufacturer for a patch or update.
The user can install an additional player on the device. Article from Android Pit on how to do it.
Storage Fixes from some users on this tread. Android 10 xda developers
Google is working on Android 11 and it should fix the problem.
The user can roll back the device to Android 9. Follow these instructions from Android Authority.